WOJM: What's On Joe Mind?
Kate
Episodes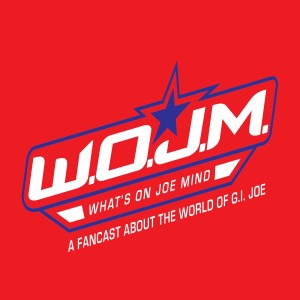 Sunday Oct 27, 2019
Sunday Oct 27, 2019
It's October, which means changing leaves, pumpkin spice, Halloween, and... WOJM Ladies Night!  Joe and (Honorary Lady) Mike are joined once again by Sara Detrick and Kate McLeod for discussion, news, and one of the best "Losertown" segments of all time! Since the holiday season is upon us, Joe leads the team through a brief discussion of GI Joe-themed vintage Halloween costumes and Hallmark Christmas ornaments, and Sara is scarred by Lady Jaye while taking a shine to Speedy.  You can find pictures of the costumes at: Vintage costumes - http://www.vintage3djoes.com/playsuits--costumes.html French masks - https://www.yojoe.com/international/france/masks.shtml Also, Mike leads a mini-interview of Joe, as she recounts her long, eleven-year journey towards becoming an American citizen, which she completed September 11.  Congratulations to Joe! Contact WOJM: Email- whatsonjoemind@gmail.com Voicemail- 262-515-9656 Facebook- http://www.facebook.com/whatsonjoemind Twitter- @wojmpodcast Instagram- @whatsonjoemind YouTube- https://www.youtube.com/channel/UCjSMX6aDD5X4nqYmFJLNyjQ Etsy- https://www.etsy.com/shop/WhatsOnJoeMall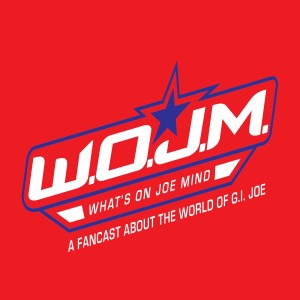 Friday Oct 26, 2018
Friday Oct 26, 2018
October is both Breast Cancer Awareness Month and Domestic Violence Awareness Month, so the team decided it was a good time to give the keys to Joe Colton and bring back our Ladies' Night tradition (Ladies Night III to be exact)! Joining Joe is Spider-Slayer and Tinkles (old friends of the show Sara Detrick and Kate McLeod), and together they'll explore the world of GI Joe from a feminine perspective - from cosplaying to collecting and may stops in between. You'll also learn the origins of their special code names (for the record, Joe's is "Sniffles") and have a laugh or twenty along the way. Pour yourself a favorite beverage - just like our hostesses with the mostesses - and enjoy!   PS, if you enjoyed this edition of Ladies Night, go back into our archives and listen to Ladies Night I and II.  You won't be disappointed.  
Tuesday Aug 09, 2016
Tuesday Aug 09, 2016
It's the Roll OutRoll Call episode.....only a month after it took place!! Dave, Eddie and Chrisdiscuss the busy weeks leading up to and following the show as well asreturning with File-O-Facts and the hilarious Male-Bag segment!! The boys arejoined by the lovely Kate Kirkwood, famous for that incredible 12-inchRoboskull custom, the crazy talented Boss Fight members, Erik & CatrinaArana (broadcasting from a car no less) and of course the awesome Gary Godsoe,as we delve into what was a wonderful weekend with amazing friends!! Oh yeah,and Justin Bell has the news........FULL FORCE!!!!!