Episodes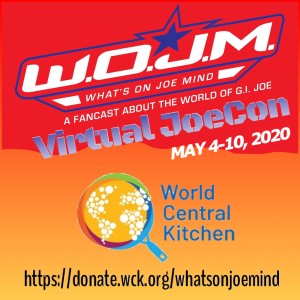 Tuesday May 05, 2020
Tuesday May 05, 2020
JOEVERLOAD!  That's the only way to describe the WOJM studio when Joe Slepski (host of Joe On Joe Podcast) and Joe Holp (host of The File Card Podcast) stop by to plug their shows!  Thrill as the Joes fight in a three-way ladder match for the Intercontinental Title!
You can find Joe On Joe Podcast at: https://www.facebook.com/JoeonJoePod/
You can find The File Card Podcast at: https://www.facebook.com/FileCardPodcast/
Virtual JoeCon is a fundraising event, supporting World Central Kitchen.  Please visit our fundraising site and give what you can -- if everyone who listened made a $2 donation, we would blast through our fundraising goals!  Please help!
donate.wck.org/whatsonjoemind
The event is sponsored by Kokomo Toys and ROMA Collectibles!  After you've made your donation, please visit their eBay stores and treat yourself to some toys!