Episodes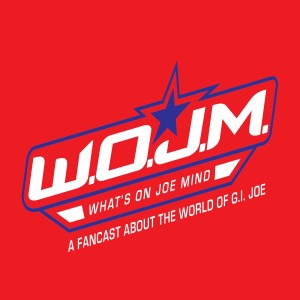 Sunday Oct 27, 2019
Sunday Oct 27, 2019
It's October, which means changing leaves, pumpkin spice, Halloween, and... WOJM Ladies Night!  Joe and (Honorary Lady) Mike are joined once again by Sara Detrick and Kate McLeod for discussion, news, and one of the best "Losertown" segments of all time!
Since the holiday season is upon us, Joe leads the team through a brief discussion of GI Joe-themed vintage Halloween costumes and Hallmark Christmas ornaments, and Sara is scarred by Lady Jaye while taking a shine to Speedy.  You can find pictures of the costumes at:
Vintage costumes - http://www.vintage3djoes.com/playsuits--costumes.html
French masks - https://www.yojoe.com/international/france/masks.shtml
Also, Mike leads a mini-interview of Joe, as she recounts her long, eleven-year journey towards becoming an American citizen, which she completed September 11.  Congratulations to Joe!
Contact WOJM:
Email- whatsonjoemind@gmail.com
Voicemail- 262-515-9656
Facebook- http://www.facebook.com/whatsonjoemind
Twitter- @wojmpodcast
Instagram- @whatsonjoemind
YouTube- https://www.youtube.com/channel/UCjSMX6aDD5X4nqYmFJLNyjQ
Etsy- https://www.etsy.com/shop/WhatsOnJoeMall